SEO news September 2021: Page experience, internal links and much more
Every month, our resident SEO experts Jono Alderson and Joost de Valk discuss all the latest happenings in the online world. Topics discussed range from Google's newest updates to relevant developments with the WordPress CMS or tech news that will influence how you do your work. In the September 2021 edition of the SEO news webinar, Joost and Jono talked about Core Web Vitals, WordPress themes influencing rankings, the future of the internet, and more!
Sign up for our next SEO news webinar
Before we get started, be sure to sign up for our next SEO news webinar on October 19. The easiest way to do that is to follow Yoast on Crowdcast and then you'll get notifications of any new dates — and reminders of the upcoming start of one. This way, you can keep following all the latest on SEO without having to read up everything yourself! Saves you time and effort.

Go to the Yoast profile on Crowdcast and hit that green follow button!
Google news
Page experience update has rolled out + first proof of results
Google has spent the last few years saying that page speed is important, and more recently they've rolled out their measurements for Core Web Vitals, which are a nice set of metrics for measuring speed and other things. So if you have a fast site, you rank better if you have a slow site, you probably rank worse. It's not the biggest ranking factor in the world and certainly depends on whether you're faster or slower than your competitors, but definitely means it's worth paying attention to.
None of this is new, but it's now official and out there in the wild now. If you haven't yet, start monitoring your site speed and make your site as fast as possible.
This month, Citrix published research that actually proves that this is in fact a real ranking factor. The study shows that if you have a faster site, you might do quite a lot better than your competitors, so this is definitely worth looking at, and even more so if you know that your competitors aren't very fast.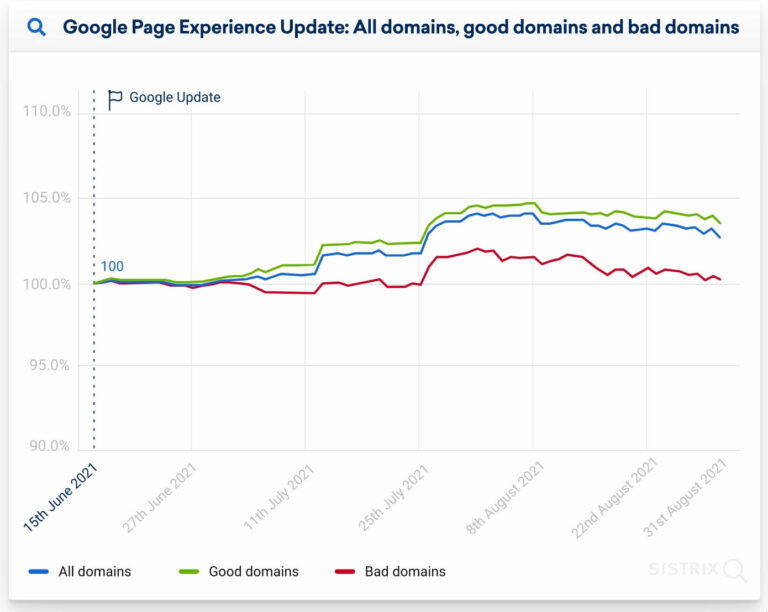 The green line shows sites that have proper web vitals scores do well, while the red line with unoptimized sites stay far behind
Google Web Vitals Pattern library
Web.dev is a Google website with a whole bunch of examples, documentation, and resources on how to build good and fast online products. The Web Vitals patterns site attempts to solve the problem that you get from having to follow the advice Google gives on improve your site. If you don't have a fast site and you're not sure where to start.
So, the advice says your carousel might have performance issues, but where do you start fixing that? Actually, a lot of components of web pages are pretty much the same, so fixing a carrousel would be the same on many sites. That's why these patterns help you improve these. The page has loads of examples and code that you can use.
Titlegate is still continuing
Google received loads of feedback on the generation of titles, so they added more insight into how titles are being rewritten. They toned it down a bit and use it in fewer instances, but they will still continue to use the new system. They're committed to it, and they're going to continue to keep changing people titles where they think they can do a better job. We need to adapt to that and try and manage that and monitor it as best we can.
Keep your titles as short and succinct as you can while still fully describing the page, which is really hard. Use as few words as possible, but as many as needed, so certainly don't overdo it. You don't need 1000 words in the title.
Google acknowledges the power of internal linking
Internal links have never been particularly trendy, but you can achieve some impressive impact by helping Google to understand the structure of your site, helping them discover your most important pages, linking users through your content to relevant surf can be useful. All of this is good, and it's great to see Google saying pay attention your internal linking.
Fixing your internal linking is hugely important to your rankings. Yoast SEO Premium comes with internal linking suggestions that automatically suggest relevant content to link to.
Changing WordPress themes can impact rankings
In the WordPress space, we've kind of normalized the idea that you might change your theme every week. But, changing WordPress themes can influence rankings. Because the theme isn't just the color, the theme. It's all of your HTML and all of your JavaScript. All of your CSS, all of the way that your images load, or the way that Google understands your content. Not to mention completely upending the way your internal links and menu are set up.
One small aspect that might change how Google perceives the quality, or it might change how users interact with it. If you do something that increases your bounce rate, that might negatively impact your SEO. Changing themes might mean nothing at all, but it might be a huge deal. You're essentially replacing the front end of your website, so people really underestimate the impact of that.
Introducing Microsoft Start
Microsoft is launching Microsoft Start in version 11 of Windows, rolling out soon. It's a personal recommendation engine that's not unlike what Google does with Discover.
We've talked about Google Discover previously, which is when you open your phone before you search, you get recommendations for content in a sort of newsfeed. What's interesting about this is personalized based on many factors, including your search history and other stuff. It changes the way that search works. You're no longer typing in a keyword and getting results, but Google is preemptively giving suggestions.
This is very much Microsoft's equivalent baked into Windows 11. Everyone will upgrade for free, so this is millions and millions, and millions and millions of devices eying your content. You have to rethink how people find your information. You can no longer optimize your content using classic SEO tactics, but you have to work on becoming a trusted publisher.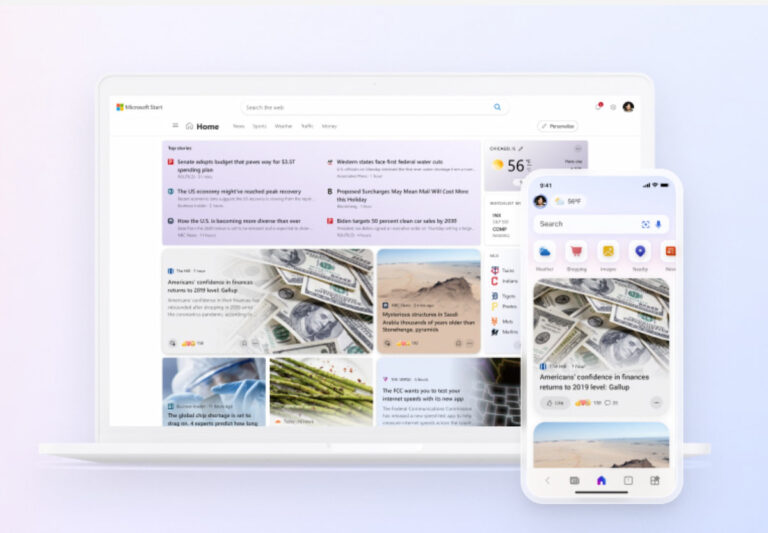 Microsoft Start coming to a device near you in the next couple of weeks
WordPress news
Work on WordPress 5.9 has started. Most of it's about full site editing, which is the continuation of the beloved Gutenberg project. We're slowly moving towards a future in which a page builder is part of the WordPress core itself. It's as good a reason as any to start playing with the block editor. If you're not using Gutenberg and if you're still on the classic editor plugin, we would take this as an opportunity to go and prepare for the future.
One of the new things you can play with WordPress 5.9, will be a new gallery block. This gallery looks good and seems to work quite nicely. As it's native this should be much faster than any other plugins that you currently need to do that have tons of JavaScript and HTML run this. In addition, you can tinker with this in much more detail than you can with many of the gallery plugins out there.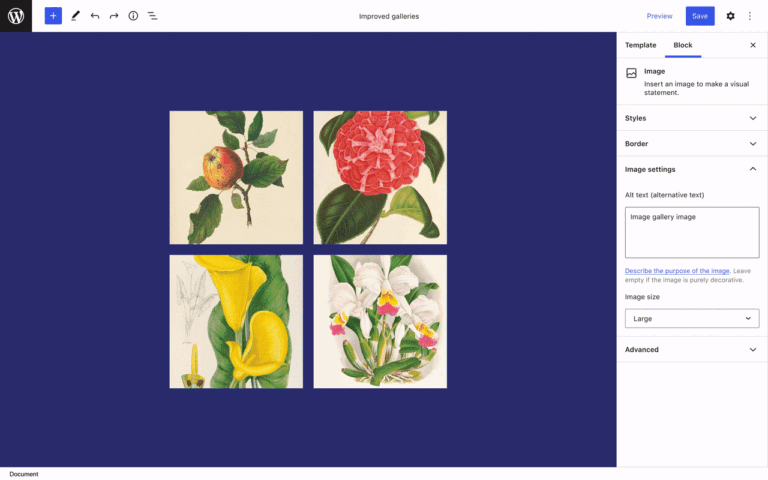 An impression of the new gallery block in WordPress 5.9
Other tech news
While Google hadn't that much news to share this month, other platforms did. There's also a big discussion happening about the future of the internet and what we can expect from that.
The future of the internet
Much of the free Internet and the services we use every day are powered by ads and that comes with pros and cons. Historically there has been very different governance and legally mechanically technically on how those ads work. That has led today to a world full of privacy issues and performance issues. And that is starting to be addressed by governments by companies by consortiums. The New York Times has a great piece on the future of the internet.
Gradually we're standardizing how the ad industry and ad networks and individual adverts should work and what the privacy rules are and how they should be implemented. The big thing that's going to change in the next few years is that many browsers, including Chrome, will stop supporting third-party cookies.
As a result, a huge chunk of the less well-behaved ad industry will start to struggle. Their revenues will drop their ad hearings will drop and that will radically change the face of the Internet and huge amounts of free services will struggle.
In the next few years, the very shape of the Internet is going to change quite considerably and that will mean that you might want to if you're relying on ads, change your content strategy if you're tied heavily into networks sites that have went on and then we evaluate those partnerships.
Start thinking about the role that advertising through banner ads and things plays in your ecosystem and think what happens if that suddenly starts to fall apart.
The SEO advice here is that you need to be building a brand and start being a publisher. Create and build an audience. Who trusts you? Who uses you as a resource? Because then whatever changes mechanically in the web, you can still reach connect with that audience. You can collect their email addresses. You can have conversations, and you're not relying on hand to mouth. How many people can I get to read my adverts? Easier said than done, but that's the direction of travel.
Shopify Markets
Shopify is launching a global commerce hub, as they're calling it. It is easy to roll out your business to a new market. Traditionally, if you want to sell in different languages using local currencies that's nightmarishly complex from a logistics, legal, language, and tax shipping perspective.
But now Shopify Markets makes it all that much easier, and you can just go and do it. You can now simply decide to start selling in Spain and define different shipping rules. You can use a different product inventory and different pricing rules, and it takes care of the rest really fast. Of course, you can do this kind of stuff with WooCommerce in WordPress, but you need twenty plugins that all don't quite work together. Shopify Markets is sleek and it just works.
Yoast news
As always, we've been quite the busy bees this past month. We've launched Yoast SEO 17.1 and Yoast SEO 17.2, which feature changes, among other things, regarding page titles and introduces readability for the Farsi language. On the podcast front, Joost de Valk had an awesome chat with Mike King. Our CEO, Marieke van de Rakt, did a great webinar on how to write readable content, which you can revisit for free.
Watch the recap, join the next one
Thanks for reading the recap of the September 2021 SEO news webinar, but you've only had a taster of the full contents of the discussion. We'd ask you to rewatch the webinar if you can as it gives you even more context and insights into the things going in the online world today. Also, don't forget to join us for the next SEO news webinar in October!
The post SEO news September 2021: Page experience, internal links and much more appeared first on Yoast.